Residential Painting Expertise
Quality workmanship in all areas of interior and exterior finishing and maintenance.
Professional trades people

Well maintained equipment

Personal consultation

Detailed written proposals (firm quotes)

Written work orders ensure all parties involved understand the work to be carried out

Our 8 years in the business

Full insurance coverage from Worker's Compensation Board and our commercial liability policies

Safety comes first and is enforced by our health and safety program

Our extensive knowledge of paint systems offered by most major brands allows us to select the best product for your home. Most paint dealers will be happy to offer you the best product they sell, however there may be something better from a competing brand.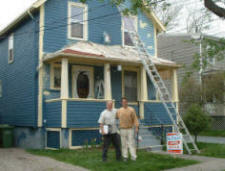 Exterior Work: We specialize in large or unique repainting projects. From historic homes with a high level of detail to less complicated trim and /or siding repaints. We have become experts in the use of spray equipment to efficiently provide you with a better quality job than is available with standard brush and roller techniques. The following steps describe how we produce these long lasting paint jobs:
Step 1: Your exterior paint is only as good as what's under it. Only after adopting power washing and chlorine treatment as standard practice prior to painting, were we able to offer our 3 year guarantee. Our cleaning process accomplishes the following:
Removes most loose or peeling paint

Kills mildew and other organisms which are growing on the surfaces of your home

Rinses away chalky residue remaining from the degradation of previous paint coatings

Plastic sheeting is used to protect your plants from this process, as well as collect most of the loose paint chips.

Rotten or missing wood will be discovered during this step and reported.
Step 2: We wait at least one week after power washing before continuing preparation by scraping of remaining loose paint. This drying time ensures the exterior surfaces are dry enough to ensure optimum primer adhesion.
Step 3: There are two ways we approach priming. "Spot Priming" refers to priming only bare areas where wood substrate is exposed. Areas where paint has remained after power washing and scraping will not be primed. Often, it is not necessary to prime sound painted surfaces as they will provide a solid base for the new top coat, just as the primer would. In situations where there is excessive exposed wood, or some other paint related problems, a full coat of primer will be applied. These details will be explained to you during our initial inspection if you call us for a quote.
Step 4: Caulking is applied to all gaps and cracks to enhance appearance and prevent water infiltration, which is the most common cause of exterior paint failure.
Step 5: The desired number of top coats are applied to the siding, then the trim
Step 6: Final cleanup is carried out to ensure the site is as clean as it was when we arrived.
Step 7: Our job site manager will inspect your home with you and address any touchups discovered.
These steps apply to most exterior painting projects, however there often are some variations depending on the paint being applied and other pre-existing conditions. We would be happy to explain these additional details in a formal work proposal.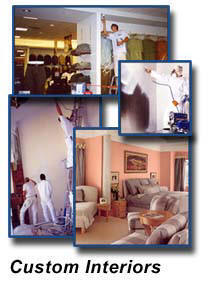 Interior Work: There are many steps involved in producing a high quality interior paint job and we understand all of them are important.
Step 1: All floors and furniture are covered for protection from dust and debris
Step 2: Drywall defects (cracks, screw pops, holes) are identified and repaired
as follows:
loose screws are tightened, additional screws may be added

Fiber tape is applied to the damaged area

High strength drywall compound is applied to provide a firm base for the repair

Drywall mud is applied and feathered

Repairs are sanded smooth.
Step 3: All surfaces are scuff sanded to reduce roller stipple and old brush marks which can show through the new paint.
Step 4: Gaps and cracks are sealed with high grade siliconized caulking to enhance appearance.
Step 5: Ceilings are painted, followed by trim, then walls
Step 6: Drop sheets and protective plastic are removed, and final inspection is carried out.
Exterior washing: Is your vinyl siding looking dreary? Is moss growing on your roof? Have your eaves troughs turned black from mildew? If you answered yes to any of the above questions, our professional exterior cleaning crew can help you. Mildew and other micro organisms must be killed prior to removal, otherwise remnants of the organism will be left behind and they will grow back faster than ever. We use Chlorine and TSP to kill and remove all forms of dirt and grime. Roof moss is easily removed with these same cleaning products. without damaging asphalt shingles.
Window Cleaning: Our friendly staff have developed a great deal of experience removing and re-installing storm windows of all shapes and sizes. With this experience we are able to clean all your windows, inside and out without damaging them. These services are offered with window washing:
Interior decorating: Looking for more than a typical paint job in your home or office? Ask us for a presentation on artistic finishes.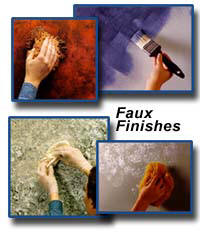 Exterior decorating: Stay inside where it is warm and safe, while we hang your Christmas lights this year. Our staff have a great deal of experience working at heights around your home, and can hang Christmas lights anywhere you would like to have them. For example:
Maintenance: We employ experienced carpenters and are well equipped to tackle the following areas:
Replacement of rotten siding or trim

Replacement of broken windows

Leveling of your veranda or porch

Roof replacement

Minor concrete work

Kitchen cabinet design and installation

Hardwood flooring

Laminate flooring